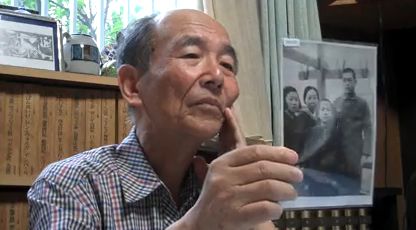 Born in 1932, SAOTOME Katsumoto experienced the Tokyo air raids of 1944-45 as a junior high school student. He was born and raised in an area of Tokyo that was hit particularly hard by the B-29 incendiary raids. Because Saotome's family continued to live in this neighborhood for the duration of the war, he was exposed to the entire cycle of attacks.
Saotome began writing about these wartime experiences as a young man and quickly became an established author of both fiction and nonfiction. Throughout his long career, Saotome has focused on issues of war and peace. During the 1970s, for example, he was instrumental in planning and editing the first large-scale collection of air raid historical materials to contain a major focus on the experiences of the common citizen. Spanning five hefty volumes, this book is called "Tokyo Daikushu–Sensaishi" (Great Tokyo Air Raid—War Damage Documentation).
Also during the 1970s, the grassroots organization Saotome assembled to preserve the memories of those who had experienced the raids firsthand (The Association to Record the Tokyo Air Raids) became a model for similar associations that were soon created around the country. Saotome currently serves as the director of the Tokyo Air Raid and War Damages Resource Center in Kitasuna, Koto Ward.
In the following interview, Saotome describes his family's experiences during the air raids and also describes the motivations behind his subsequent anti-war activism.
The interview (eight parts, approximately 45 minutes) was conducted in August 2009 by Cary Karacas.
Multiple language settings are available from the embedded player's subtitle controls.
1932年生まれの早乙女勝元は、1944年から45年にかけての東京空襲を経験した時、中学生だった。生まれ育った場所は、東京の中でもB-29による焼夷弾攻撃が特に激しかった地域である。早乙女家は戦時中を通してその地区に住み続けたため、早乙女さんは打ち続く攻撃にさらされた。
早乙女さんは戦時中の体験を若い頃に書き始め、間もなく小説・ノンフィクションの書き手としての地位を確立する。作家としての長いキャリアを通して、特に集中して取り組んだテーマは、戦争と平和である。一例を挙げると、1970年代、早乙女さんは空襲関連資料を収録した初の大掛かりな全集の企画・編集に尽力し、とりわけ一般市民の空襲体験に焦点を当てた。全5冊に及ぶ大部の全集は、「東京大空襲・戦災誌」というタイトルがつけられている。
1970年代にはまた、空襲を直接経験した人々の記憶を保存していくために早乙女さんが立ち上げた草の根団体(「東京空襲を記録する会」)が、後に全国で結成されることとなる同様の諸団体のモデルとなった。早乙女さんは現在、東京・北砂の東京大空襲・戦災資料センターの館長を務めている。
以下のインタビューで、早乙女さんは空襲時の一家の体験と、その後の自らの反戦運動を支える動機について語っている。
インタビュー(全8編、計約45分)は2009年8月、ケリー・カラカスが日本語で行った。日本語または英語の字幕付きで視聴可能。
Part One:

Part Two:

Part Three:

Part Four:

Part Five:

Part Six:

Part Seven:

Part Eight: