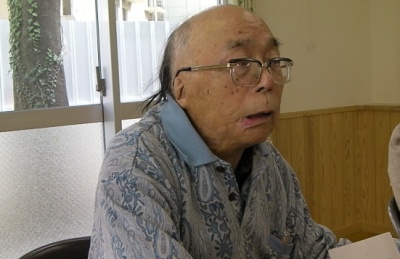 Shigemasa Toda  was born in 1930. He was fourteen years old at the time he was injured by an incendiary bomb during an air raid on Tokyo on 13 April 1945.
In the following video, Toda describes losing his mother in the same raid and the process of locating his father after having spent months recuperating in a hospital and being cared for in an orphanage.
The interview (total running time: approximately 23 minutes) was conducted by Bret Fisk on 21 November 2010. Multiple language settings are available through the embedded player's subtitle controls.
戸田成正は1930年に生まれ、1945年4月13日の東京空襲で焼夷弾により負傷した時、14歳だった。
以下の映像で戸田さんは、同空襲で盲目の母親を失ったこと、また、数カ月間にわたる入院・養育院生活を経て父親を捜し当てた際の過程について語っている。
以下のインタビュー(合計約23分)は2010年11月21日に、ブレット・フィスクが日本語で行った。日本語または英語の字幕付きで視聴可能。
Part 1:

Part 2:

Part 3:

Part 4:

Part 5:

Part 6:

________________________________________________________________________________
Photographs of the postcard Toda sent to his uncle while staying at the orphanage:
養育院にいる時、戸田さんが徳島県の親戚に出した葉書:
Front: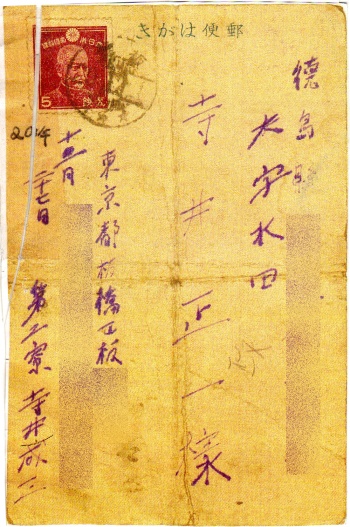 Back: