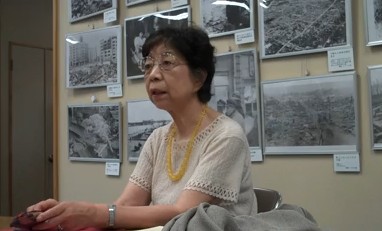 Mari Kaneda was nine years old in 1945. As a third grader, she participated in the government's evacuation program for children and had been living away from her mother and two sisters for several months. However, because her mother had asked that she be sent home, Kaneda returned to Tokyo on the morning of March 10–only to find that the city had been bombed during the night and her neighborhood lie in ruins.
In the following video, Kaneda describes the experience of being orphaned by the Great Tokyo Air Raid and describes the aftermath of the raid as she witnessed it.
The interview (total running time: approximately 12 minutes) was conducted by Cary Karacas in August 2009. Multiple language settings are available through the embedded player's subtitle controls.
金田茉莉は1945年当時、9歳だった。3年生だった金田さんは、政府が実施した学童疎開に加わり、母親、姉、妹と離れた土地で数カ月を過ごした。しかし金田さんが戻って来ることを母親が望んだため、3月10日の朝に帰京したところ、東京は夜間のうちに空襲を受け、近隣一帯は廃墟と化していた。
以下の映像で、金田さんは東京大空襲により孤児となった経験と、当時目の当たりにした空襲後の惨状について語っている。
インタビュー(合計約12分)は2009年8月、ケリー・カラカスが日本語で行った。日本語または英語の字幕付きで視聴可能。